World Conference on Early Childhood Care and Education Expo
An international exhibition dedicated to early childhood education will be held in the scope of the «Second World Conference on Early Childhood Care and Education».
The event will be attended by:
Education ministers from around the world;
International organizations and UN agencies;
Intergovernmental organizations and financial institutions;
Non-Governmental Organizations Private sector representatives;
Private sector representatives;
Leading international figures in the field of science and education, including Nobel laureates, influencers, etc.
This UNESCO conference is held jointly with the Ministry of Preschool Education of the Republic of Uzbekistan
Who can Participate
Organizations that produce goods and provide activities related to the field of early childhood education
Software and mobile application developers
Producers of educational and methodical and didactic materials
Manufacturers of educational games and toys
Producers of media content for young children Scientific organizations and research institutes
Publishing houses producing literature for children and teachers
Educational institutions Manufacturers of special equipment for children with special needs
Сhildren's food manufacturers Manufacturers of children's furniture and equipments
Manufacturers of children's furniture and equipments Сonsulting companies working in the field of early childhood education
Benefits
A unique opportunity to establish direct partnership contacts with representatives of the international educational community
Wide coverage in local and international media
Presentation of new achievements and advanced developments of the organization
More than 1000 offline participants
More than 500 online participants
The «Second World Conference on Early Childhood Care and Education» is held every 10 years. In this regard, this event will attract a wide of attention and this is a unique opportunity to express yourself at the international level / international arena.
Winter Garden Hall
Exhibitors will be given the opportunity to place 2 types of booths:
Non standart / individual
The booths will be located on the territory of the Winter Garden and the halls, which will allow all conference participants to visit all the stands located at the exhibition.
Who to register as an exhibitor
Download and print the form
Upon arrival in Uzbekistan, provide the 3 customs representative with a printed form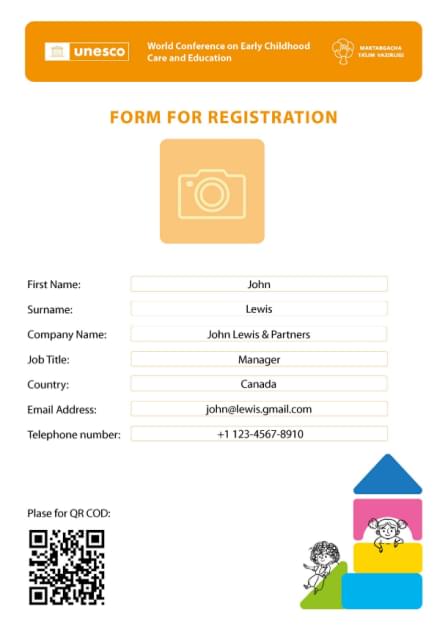 Custom regulations for temporary import
The temporary import regime will be applied for the import of goods by companies
The goods can be imported for a period not exceeding 90 days
Intercommunal organizations and financial institutions
Imported goods can be used for demonstration only and cannot be sold or used in the territory of Uzbekistan
A customs declaration must be filled out in accordance with the legislation of the Republic of Uzbekistan
VAT and customs duties are not applied to temporary import
Participation cost
Participation in the exhibition is FREE. No money is charged for rental fees, etc. The exhibitor only has to cover expenses related to construction and installation of its booth.
Standard booths
The price includes standard blocks from typical panels, branding with oracal according to customer's design, carpet on the floor under the stand, table, chairs, electricity supply, lighting, logo and naming on the panels, TV 42
Customized (non-standard) booths
The customer needs to provide sketches and technical requirements for an accurate calculation of the cost. It is also allowed to provide your own stands and materials, upon prior agreement with the sponsors/organizers of the exhibition. In this case, you will be supposed to pay only the cost of installation, which will be calculated individually.